WELCOME
THE PARK CAFE WARMING HUT IS NOW OPEN!
Enjoy seasonal favorites like hot chocolate, cinnamon buns, and roasted nuts or try the Park Cafe Warming Hut Chicago fare, featuring deep dish pizza and Chicago-style hot dogs.
Open every day at 11:00 AM!


Whether you are strolling in the park or enjoying an outdoor concert at the Jay Pritzker Pavilion, Park Café understands the joys of summer. We offer the perfect selection of dining items... all to be enjoyed under Chicago's skyline in Millennium Park. From cooling off with some ice cream to taking lunch to go, the Park Café offers delicious seasonal options to make your day at the park complete.
Featured Items
Latest News
No items found.
Upcoming Events
Thursday, June 25, 2015 @ 5:30 PM - 9:00 PM
($85 )
Welcome summer with hot grills, cool drinks, live music, and prizes at the ultimate Chicago grilling competition benefitting Common Threads and the Illinois Restaurant Association Educational Foundation (IRAEF)!
Enjoy an alfresco evening while interacting with the chefs, tasting their signature grill recipes, and voting for the 2015 Chefs on the Grill Champion!
Proceeds from this year's event benefit Common Threads and the IRAEF ProStart scholarship program.

Common Threads has been teaching children living in underserved communities how to cook wholesome, healthy meals in professional led, curriculum-based after-school programs for 10 years.
By bringing together the industry and the classroom, ProStart gives students a curriculum-focused platform to discover new interests and talents through opening doors for fulfilling lives and careers.
Both organizations set a high standard of excellence for students and the industry, and directly benefit from partnerships with local restaurants like the Plaza at Millennium Park.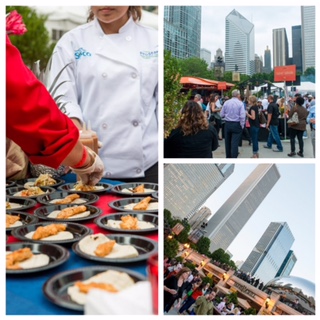 2015 Participating Restaurants
and more!
[ More ]