Seasonal Outdoor Experiences
Park Grill serves up a dining and entertainment experience that is always fresh and always seasonal.
In the winter, the restaurant's innovative seating allows all diners a view of the fun on the McCormick Tribune Ice Rink. As winter transitions to spring and summer, The Plaza at Park Grill sets the table for the city's largest and most spectacular al fresco dining experience, which features an outdoor international grill and 350 seats under the sun and stars of the city's vibrant downtown scene.
You'll enjoy outdoor concerts, sizzling Jazz, family programs, nearby fireworks, and ice skating.
There is always something happening outside our doors. Come enjoy a taste for all seasons.
Latest News
No items found.
Upcoming Events
Thursday, June 25, 2015 @ 5:30 PM - 9:00 PM
($85 )
Welcome summer with hot grills, cool drinks, live music, and prizes at the ultimate Chicago grilling competition benefitting Common Threads and the Illinois Restaurant Association Educational Foundation (IRAEF)!
Enjoy an alfresco evening while interacting with the chefs, tasting their signature grill recipes, and voting for the 2015 Chefs on the Grill Champion!
Proceeds from this year's event benefit Common Threads and the IRAEF ProStart scholarship program.

Common Threads has been teaching children living in underserved communities how to cook wholesome, healthy meals in professional led, curriculum-based after-school programs for 10 years.
By bringing together the industry and the classroom, ProStart gives students a curriculum-focused platform to discover new interests and talents through opening doors for fulfilling lives and careers.
Both organizations set a high standard of excellence for students and the industry, and directly benefit from partnerships with local restaurants like the Plaza at Millennium Park.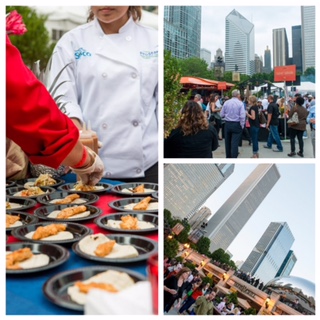 2015 Participating Restaurants
and more!
[ More ]